Customised Ute Bodies Specialist: Reliable Ute Trailers Available in Melbourne
If you are looking for custom ute bodies specialist in Melbourne, Customline Trailers is the perfect solution for your search. Ditch the unconventional Ute Canopy and choose our ute to organize your tools in separate compartments for easy accessibility. This unit will effortlessly fit into an existing tray or any cab chassis ute. Our ute service bodies are designed to accommodate your needs by changing the layouts. Specially designed internal shelves are fixed to provide you the flexibility in adjusting its height according to the tools you store inside. Our trained professionals take care of the entire process from design to manufacture of ute trailers. Hence quality is guaranteed at Customline Trailers with the minimal turnaround time for production. Customizing the layout with us is a walk in the park.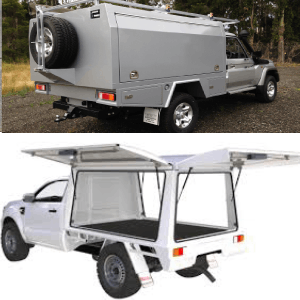 Extensive Range of New & Used UteTrailer for Sale in Melbourne
Customline Trailers in Melbourne is always ahead of the pack by providing both new and used Ute Tray Trailers. You can save considerably by choosing a second-hand Ute Tray Trailer instead of a new one. Here are a few things to consider for a potential purchase of a used trailer for your commercial or domestic use:
Floorboards: This should be the first criteria in your checklist. If the wooden floorboards are untidy and unattended, it is more likely to rot faster than you can imagine.
Aluminium floor: Aluminium floors are prone to deterioration and rust. Careful examination of the structural integrity of the trailer brings out the tiniest bit of corrosion that could be a concern sooner or later.
Tyres: Check the tyres when you buy a used ute trailer. Tyres speak volumes about the overall condition of the trailer. Uneven tyre hints at a bent axle whereas an incorrect tyre can influence the control and safety of the trailer.
Brakes: This is one of the vital features to check when you buy a used ute trailer. Ensure that the brakes and indicators are in extremely good working condition.
Dents: Look out for any dents or pinholes, which could be a sign of aluminium corrosion.
Rust and Cracks: Rust and cracks are the easiest problems to identify. However, this is one of the worst defects if it appears after you buy your trailer as it compromises the integrity of the trailer.
Contact the Best Manufacturer of CustomisedUteTrailers in Melbourne
Customline Trailers is the leading supplier of ute trailers for sale in Melbourne. We are popular in the trailer industry for the reliability and quality of the used and new ute bodies we sell. Hence you can buy the best Ute Tray Trailers in Melbourne. Call us on 0488 950 598 or 03 9401 4525 or mail us at customlinetrailers@gmail.com to know more about the products we sell. Our highly professional experts will assist you to examine or clarify any confusion regarding Ute bodies and tray trailers. Get your free, no-obligation quote today!