A One-Stop-Shop for All Your Trailer Repair and Servicing Needs in Melbourne
The lifespan of the trailer depends on how it is used and the manufacturer of the trailers. However, timely maintenance and repairsduring its use are essential to improve the life of your trailer. We are a renowned trailer repair centre rendering services across Melbourne. Customline Trailers is your one-stop solution for all your trailer purchase and maintenance needs.
Irrespective of the type of maintenance work of your trailer, you can approach us for routine maintenance, accessory installation, or any upgrades. With our highly qualified and trained technicians, we have earned the reputation of being the most renowned trailer repair centre in Melbourne. We undertake repair work of various kinds of trailers like box trailers, lawn mowing trailers, builders' trailers, rack trailers, and tandem trailers. Our team is experienced in the repairs of car carrier trailers, machinery trailers, bike trailers, flat top trailers, rampless trailers, etc.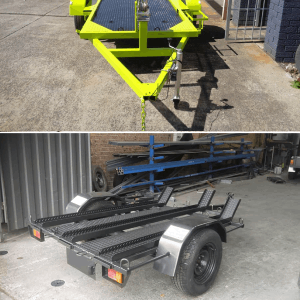 The Perfect Trailer Repair Centre in Melbourne
Our technicians provide you with services worth your money when it comes to trailer manufacturing and repairs. Here are some tips for choosing the right trailer repair centre and reasons that earned us a place among other leading Trailer Repair centres in Melbourne.
Research online about the Trailer Repair centre in Melbourne and always hire services from a place which is popular for their quality of workmanship. Check our online reviews and testimonials to know more about the quality of the services we have previously rendered. It is best to hire a Trailer Repair Centre like Customline Trailers whose excellence is spoken by people across Melbourne.
The parts of a trailer are more complicated compared to the engine of a car. Hence repairing at any random shop is not a wise decision. However, our technicians are experts in dealing with trailers of different categories. This will ensure the impeccable repair service of your trailer.
The tool and equipment we possess will speak about the kinds of services we offer. A perfect trailer repair needs eight sets of tools.
Not every Trailer Repair centre in Melbourne provides a warranty on their repairs. Customline Trailers are proud and happy to give a warranty for our work. This showcases the credibility of our work.
If you already own a trailer, you are welcome to be a part of the Customline Trailers family that is ready to help you through any rough incidents.
Choose the Best Trailer Repair Centre in Melbourne
Contact the best custom trailer repair centre in Melbourne on 0488 950 598 or 03 9401 4525. Employees at Customline Trailers meticulously work towards rendering quality repairs to you. Mail us at customlinetrailers@gmail.com to enquire about the trailer services you need in and around Melbourne. We assure you that you will have a seamless experience with our friendly staff. Get your free, no-obligation quote today!