High-Capacity Bike Trailers for Sale in Melbourne
When you are looking for high-capacity bike trailers for sale in Melbourne, there are many factors you should keep in mind. There are many obvious benefits of owning a bike trailer, but it is even more important to own the right kind of bike trailer.
At Customline Trailers, we offer a wide variety of bike trailers for sale and make sure that our customers receive the right advice while choosing the bike trailer that suits them the best: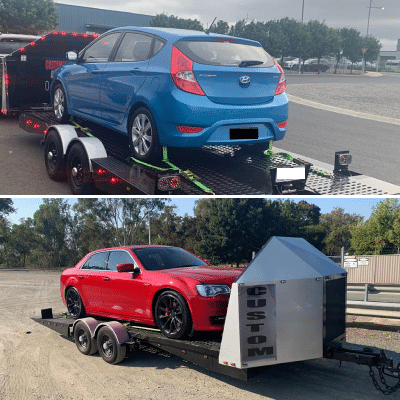 The capacity of the Trailer: Always consider the size and weight of your bike before you choose your bike trailer. These factors play a huge role in determining the capacity of your bike trailer. Sometimes, you will also have to choose the capacity for your bike trailer based on the number of bikes that you intend to carry. In such cases, you will not only have to consider the capacity but also the weight distribution, as that will influence the functioning of the trailer.
Weight of the Trailer: Here, we are talking more about the material that we use to build our bike trailers. The overall weight of the trailer itself needs to be considered as it will affect the vehicle hauling the trailer. You do not want to have an overweight trailer that will strain your van's or car's performance. The weight of the trailer also plays a big role in the overall safety of the vehicle, the cargo, and the trailer itself. A lighter load will always be a safer option to consider. At Customline Trailers, we offer bike trailers that are made of light materials like aluminium and fiberglass.
Open or Closed Trailer: You will have the choice of selecting between an open or a closed bike trailer. An open bike trailer is a more economical option as it can be used as a multi-purpose trailer. Due to their built, they are much lighter, but they will not offer any protection to your motorbike from bad weather or debris. A closed trailer from us is available to you in a variety of designs. They will not only protect your bike from various weather conditions, but they can also be used as on-road storage units. The only major disadvantage you will have with them is that they cost more in the long run. This comes in the form of additional fuel that gets used to haul their extra weight.
Safety Features of the Trailer: Our bike trailer comes with a host of safety features such as lights and multiple tie-down locations and emergency brakes. These features not only help ensure that your bike is transported safely but also ensures the safety of you and your van or car that is hauling the trailer.
Buy a Bike Trailer in Melbourne – Customline Trailers
We know that motorbike lovers enjoy riding their machine wherever they can, but it is not always possible to take it everywhere you go. Bike trailers from Customline Trailers have been offering the best solution for bikers so that they can transport their mean machines to any location that they want. Whether it be taking a dirt bike to a wasteland or a desert or if it is to carry your superbike to the racetracks, our bike trailers guarantee to get the job done.
We also offer the best deals on bike trailers in Melbourne. When you buy a bike trailer from Customline Trailers, you will get a manufacturer's warranty. We provide deals, guarantees, and warranties based on the type of bike trailer that you purchase from us. We also provide cheap repairs for your trailer but believe us when we say that you will hardly ever come back to our shop to complain.
Call Now
Get in touch with the bike trailer experts at Customline Trailers in Melbourne at 0488 950 598 to find out more about what we can offer you.