One of the Most Prominent Trailer Sales Company in Melbourne
Do not settle for poor quality or cheaply built trailers when you look for an affordable trailer in Melbourne. Customline Trailers are the most prominent manufacturers and sellers of trailers in Melbourne. We provide a fantastic variety of trailers at affordable prices without compromising on customer care and quality. That's why, we manufacture practical, economical, and heavy-duty trailers across Australia that are perfect for your domestic and commercial use. The kind of trailers we manufacture is car carrier trailers, motorbike trailers, box trailers, tipper trailers, custom-built trailers, used trailers, and many more.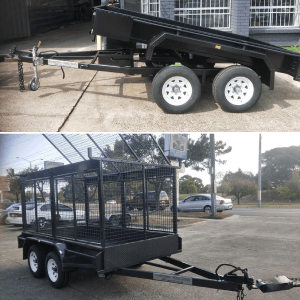 A Wide Range of Trailers for Sale in Melbourne
Keeping your trailer always up for the job is the key to trucking success. Regular maintenance and replacement of worn out or damaged parts instantly keeps your trailer ready to use whenever the need arises. Customline Trailers is your right trailer repair and manufacturing partner in such instances. Keep the following tips in mind when you purchase trailer in Melbourne:
Regular Maintenance: Preventive maintenance is the initial step to prevent breakdowns. If you follow regular maintenance, it reduces the risk of accidents and breakdowns. This is because regular maintenance will indicate the presence of any worn out part of your truck immediately.
Remove the price barrier: Do not sacrifice performance and safety to save a few dollars. Using quality parts will provide you with better performance with less downtime. This will increase your potential earning in the long run as it increases productivity.
Resale value: The trailer parts you replace is an important factor which will decide the resale value of your truck in the future. Low-quality trailer parts result in premature failure of your trailer and incurs a higher cost for maintenance.
Warranties: OEM warranty helps you get brand-new factory parts during the time of replacement. It is always better to choose factory replacement rather than low-quality parts bought from random stores in Melbourne. Make sure that the warranty of your trailer covers all the trailer parts.The warranty will not be void if the trailer parts are purchased from an authorized dealer like Customline Trailers.
Trusted suppliers: Customline Trailers is the reputed supplier of trailers and trailer parts in Melbourne. We assure hassle-free repairs and will use quality trailer parts for replacement.
Call the Leading Providers of Trailer Sale in Melbourne
Customline Trailers provides high-quality trailers in and around Melbourne. Do not hesitate to contact us for any trailer repair services or warranty claims. We have a decent stock of factory trailers in Melbourne. Call us on 0488 950 598 or 03 9401 4525 for more details about customizing your trailer. You can also ask about repairs, service, etc. Mail us at customlinetrailers@gmail.com to get your slot booked for the trailer repair services. Get your free, no-obligation quote today!