Car Trailers for Sale: Benefits and Purposes of Car Trailers
Are you on the lookout for an ideal solution for a residential relocation? A car trailer is a perfect solution! Even called a 'home on wheels, a car trailer is beneficial in various aspects. In addition to being cost-effective and easy to drive, car trailers come in open and closed forms. Also, rental moving car trailers are beneficial for both short as well as for long-distance relocations. This is because these car trailers are built for transportation and relocation, to reduce repeat trips, which in turn saves energy and time for the mover!
Efficient and Cost-Effective Car Trailers in Melbourne
A trailer is an efficient means of transporting, traveling, as well as camping. Investing in a car trailer provides shelter from the weather and can be used for a multitude of amenities including trash removal from homes. Both open and enclosed car trailers can be used for many purposes.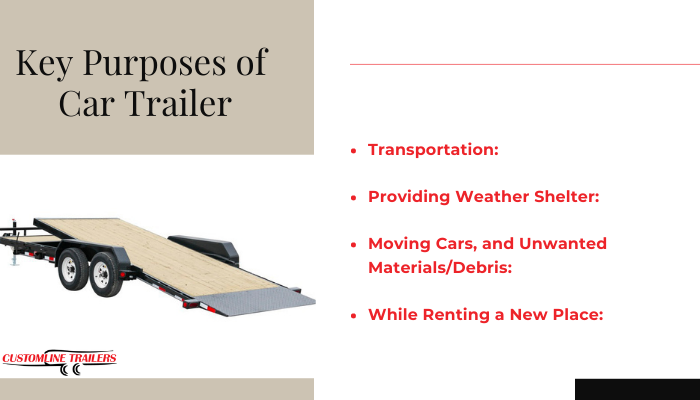 Here are some key purposes and benefits of owning an effective car trailer:
An enclosed trailer, also known as a cargo trailer, is a type of car trailer used for transporting materials. Once loaded, the car trailer is then hauled. The trailer also protectsitems that are to be transported by preventing them from falling off the trailer bed.
Providing Weather Shelter:
Be it running your business or managing a construction crew, a car trailer can protect your items from harsh weather conditions. A custom-made car trailer can be incorporated with an air-conditioning system to avoid any potential heat strokes.
Moving Cars, and Unwanted Materials/Debris:
A car trailer is the perfect for transportation of debris and other types of rubbish. Be it to get rid of old furniture or to dispose of construction waste, a trailer will save time and several round trips. Here, the objective is to first analyse the kind of garbage to be transported so that the right car trailer can be bought. If you need to transport a car, a trailer will prevent your vehicle from damage. An efficient car trailer for sale in Melbourne and Victoria can save you from overhead costs and make your job of tidying up much simpler.
While Renting a New Place:
Picking up your belongings and having to transport them safely to your new location can seem like an uphill battle. A car trailer is helpful in such situations as it is easier to load items on and off as it is closer to the ground.
Contact the Experts in Car Trailer for Sale in Victoria and Melbourne Today!
Customline Trailers is a one-stop-shop solution for all your car trailer requirements. Car trailers are immensely useful when it comes to transporting cars and heavy cargo. It is, hence, crucial to look out for a professionally qualified trailer provider across Melbourne and Victoria suburbs. Call Customline Trailers on 0488 950 598 to talk to our expert car trailer manufacturers. You may also mail us at customlinetrailers@gmail.com for more information on our wide range of car trailers available in Victoria today! Get your free quote from us right away!